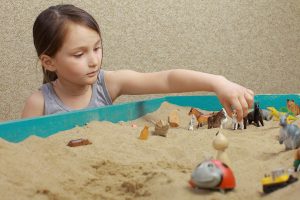 Therapy for Children
Many children and adolescents experience changes or difficulties that affect how they feel, act, or learn. Therapy can help with developing communications skills and coping mechanisms. Significant changes such as an impending or recent divorce, relocation, or death of a loved one can trigger anxiety or even depression. Even a minor change such as the start of the new school year can bring about changes in behavior. Our experienced therapists will work with you and your child in order to help identify issues and to develop a treatment plan. Treatment may consist of cognitive behavior therapy, Sandplay therapy, art activities, or a combination of methods that will work best for the individual.
We take a holistic approach and with parental permission, we may confer with your child's medical doctor and/or teacher(s) in order to gain additional insight that will help us to develop the most effective means for therapy. Our staff has experience in treating childhood anxiety, depression, ADHD, autism spectrum disorders, bipolar disorder, low self-esteem, non-suicidal self-harm, OCD, oppositional defiant disorder as well as other diagnoses.
Contact us at 469-646-6350 for more information or to schedule an appointment. Discounts are available for daytime appointments, but evening and weekend appointments may also be scheduled.